Types of Procedures
Clean Procedures (Orthopedica/Breast) - Cefazolin to cover staph and strep.

Procedures involving bowel anerobes (gram neg-bacilli, enterococci) - Cefoxitin +/- metronidazole (for resistant aerobic gram neg bacilli e.g. E coli).

Craniotomies - Ceftriaxone for good CSF penetration.

Procedures with groin incisions (vascular surgery, hysterectomy, colorectal) - Add gentamicin, ciprofloxacin, levofloxacin or aztreonam for gram-neg bacteria.
Timing of prophylaxis
Antibiotic therapy should be given within 60 min prir to surgical incision for adequate serum drug tissue levels at incision.
Rates of surgical wound infection (number of infections/number of patients) vs. time of antibiotic administration: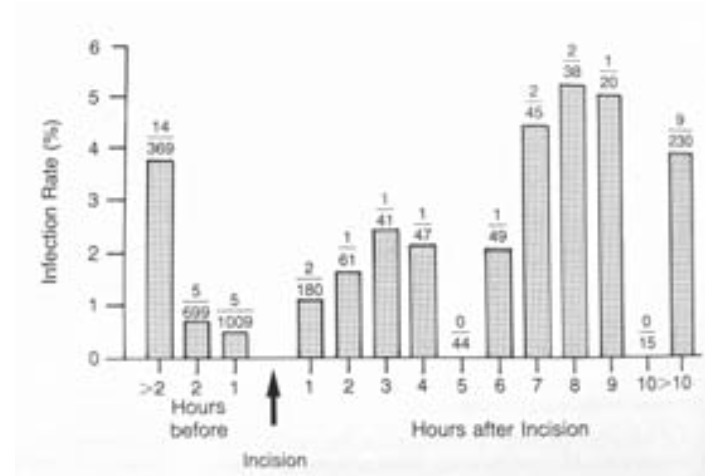 Administration
Antibiotics should be given via a slow infusion:
Vancomycin - Over 30-60 min to avoid Red Man Syndrome

Gentamicin - Over 30-60 min to avoid ototoxicity/nephrotoxicity.

Metronidazole - over 60 minutes

Ciprofloxacin - over 30 minutes

Clindamycin - over 10-15 minutes

Ertapenem - over 30 minutes
Common doses
Ampilcillin 1 g
Cefazolin 1-2 g (2g for patients >80kg)
Cefoxitin 1-2 g
Clindamycin* 600-900 mg
Gentamicin* 1.5 mg/kg
Metronidazole 500 mg
Zosyn 3.375g
Ceftriaxone 1g
Vancomycin 1g

Ciprofloxacin 400mg

can potentiate neuromuscular blockers.
Allergies
True incidence of allergy in patients with a history of penicllin allergy <10%. Only IgE-mediated reaction (type 1, immediate hypersensitivity) are true allergic reactions.

Cross reaction between penicillin and cephalosporins <<< 10%

For penicillin allergic patients, consider vancomycin or clindamycin +/- (ciprofloxacin, levofloxacin, gentamicin, or aztreonam for gram negative coverage).

Allergic reactions are more likely from neuromuscular blockers than antibiotics.