Central Venous Catheter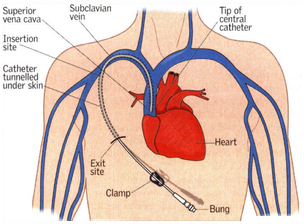 Sits in subclavian or internal jugular with tip directed towards SVC.
Measures RAP RVEDP = RV preload and thought to parallel LAP and thus LV preload.
Inaccurate in ptatients with pulmonary HTN, Right heart disease, valvular pathologies, pulmonary edema, PEEP (↑ intrathoracic pressure during expiration ↑ CVP)
Also used to infuse inotropes or vasopressors
Causes of Preoperative Volume Loss
Vomiting
Diarrhea
Fever
Sepsis
Trauma
Fluid shifts (e.g. burns, ascites, pleural effusion)
Intraoperative Volume Assessment
Not very reliable:
HR and BP (control for PPV and anesthetics may cause relative hypovolemia)
Pulse Oximetry (waveform wanters from baseline)
Urine Output (stress response from surgery increases ADH so not reliable measure).
Serial ABGs to check lactate.
Reliable in the absence of heart pathology
Central Venous Catheter (for CVP).
Very reliable:
Pulmonary artery catheter: Most commonly used for in RV dysfunction, pulmonary hypertension, valvular pathology (AS, MR), LV dysfunction.
Transesophageal Echocardiogram: Commonly used in major cardiac surgeries and liver transplants.
Intraoperative Fluid Requirements
Maintenance: Generally 4-2-1 rule used. 4ml/hr/kg for first 10 kg, 2 ml/hr/kg for next 10 kg, 1 ml/hr/kg for each additional kg.
Compensation for pre-existing fluid defecits: Multiply maintenance requirements by the number of hours NPO. Give 1/2 of additional fluids in the first hour, 1/4 in the 2nd hour, and 1/4 in the 3rd hour.
Example:
For a 70 kg man, the total fluid requirements are 4 x 10 kg + 2 x 10 kg + 1 x 50 kg = 110 ml/hr.
If the man has been NPO for 8 hours, he needs an additional 880 ml (for a total of 990 ml). 440 ml (on top of the maintenance 110 ml) will be given in the first hour of the surgery. 220 ml (+110 ml maintenance) will be given in each of the next two hours).
Types of Fluid